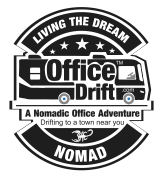 OfficeDrift™
Opportunity of a lifetime
You read the title right.
The ideal candidate will have the following:
Reliable internet/wifi/data access. Doesn't matter which.
At a minimum, you need a reliable laptop.
Good work ethics.
Self motivated.
Team work mentality.
Well versed in the state of Alabama's geography.
Dwells more than 6 months per year in the State of Alabama.
Active PayPal™ account, so we can send you Ambassador commissions.
Position Requirements:
Tasks – Must login at least once per day (Minimum 1hr) to perform assigned tasks. (Make your own schedule) – (No experience required, we'll train you)
Research – You'll be researching new locations in the state of Alabama, (Online or in person, up to you) for full-time rvers/van lifers/tenters. (We already did most of it for you) – (No experience required, we'll train you)
Data-entry – You'll be updating listings, pages, uploading images, etc. (No experience required, we'll train you)
Leadership – As a Alabama Ambassador, you will be the go-to person for any member inquiries in the clubhouse pertaining to your respected state. (No experience required, we'll train you)
Benefits of becoming an OfficeDrift™ State Ambassador:
Note: This is not a sales position, it's for a team/group partnership with other freelancers and entrepreneurs working together, towards common goals.
50% commission of revenue generated through OfficeDrift™ from Alabama domiciles/residence that make a purchase of any OfficeDrift™ related product/service (E.g. Motorhome rentals, Car Rentals, Alabama sponsored listings, etc.) – (This applies for the duration of your Ambassadorship) – Unless referred by another Club Member. A referral take precedence on the commission.
You'll be your own boss/Independent Contractor and responsible for your own taxes.
You'll become partners in something bigger than we are.
You'll be able to help thousands of people find safe and secure places to park for the night or long-term.
You'll be able to help struggling travelers with tight budgets find remote work.
You'll get a free club membership (This applies for the duration of your Ambassadorship).

Club members forums – No guests or search engines have access to this private area. Speak freely. You can visit the Members Only Club but unfortunately, the clubhouse area of it is hidden until you are a club member.
Club members receive priority on support inquiries.
Club members have access to private clubhouse tutorials and guides that introduce various types of revenue generating strategies, skill sets, and business models that work great for the RV lifestyle.
Club members receive special discounts on products/services. (When available)
Club members are automatically enrolled in all of our referral promotions (When applicable), allowing them the opportunity to earn a little extra cash on the side sometimes. For example: Our parent company ScorpionAgency™ is a design and brand management agency, so, if you were to refer someone for logo or design work and they make a purchase, you get 50% commission on completion of the project.
Club members receive priority notice on new job openings (Before they get listed on the public job board)
Club members are able to work and collaborate with other club members that run successful online businesses (Entrepreneurs), as an apprentice and tap into some valuable mentorship opportunities to help you start your own online business on the side. (We want you to succeed!)

You'll receive official OfficeDrift™ business cards (Personalized with your name and Ambassador title)
As we grow, you grow and more opportunities will become available to us both.
Are you ready to work together towards a common goal?
Let's talk about it more and see if we can help each other.